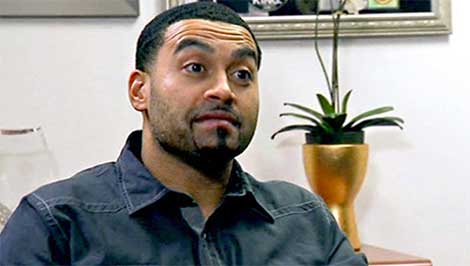 Update: Apollo eventually turned himself in much later that same evening.
An arrest warrant was issued for a Real Housewives cast member Apollo Nida yesterday when he skipped out on his scheduled date to surrender and begin an eight-year prison sentence. Rather, Nida showed up at Phaedra's house, where Bravo cameras were rolling.
Real Housewives of Atlanta cast member Apollo Nida (who was convicted of money laundering and check fraud this summer) was supposed to turn himself in to authorities yesterday at noon to begin his sentence.
Instead, he apparently went home to confront his wife, Phaedra Parks, forcing his way into the house to berate her for changing the locks and failing to deposit money into his prison bank account.
A source tells Us Weekly, "It was the most bizarre thing. Everyone thought he was already at jail this morning. He drove himself to jail and was supposed to be there by noon. So Bravo came over to her house to start filming her coming home and all that stuff. The whole Bravo crew saw it – it's all on tape. Everyone was shocked."
Parks' husband verbally attacked her from their driveway, shouting, "You didn't come to my hearing!"
Nida — who previously served six years in prison for auto loan fraud — was "running around the house like a lunatic for about 20 minutes. He was psychotic, not even making sense."
Nida was sentenced this summer after pleading guilty to charges that he created a fake collections company as a front for identity theft. He reportedly used his victims' information to secure fraudulent auto loans, and also admitted to stealing US Treasury checks and Delta Airlines retirement checks.