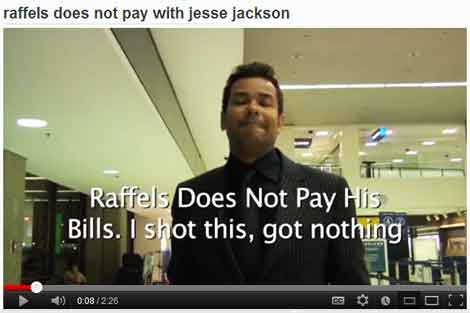 HSK Exclusive – The man known as Raffles van Exel, real name Raffles Dawson, has left many victims in his wake over the last 20+ years. Some are dead, but most are still alive. Raffles crimes range from pety theft all the way up to grand larceny, with some credit card fraud and identity theft sprinkled between.
Last night I got a call from another victim of Raffles, this time it was the person Raffles hired to film some interviews Raffles was conducting separately with Jesse Jackson, Mario van Peebles and Ray J. Needless to say, I am sure you see where this is going…
Here's what camera man Mr. Green had to say about his experience working for Raffles van Exel:
"Raffles promised to pay me for shooting the interviews. He requested I shoot at the airport with Reverend Jessie Jackson, and at a downtown red carpet event.

Another job I did was with Ray Jay and Mario Van Peebles. I also shot more interviews downtown and a personal interview with Raffles in his hotel room on Century Blvd near the airport."
Did Mark Seal from Vanity Fair spend several month tracking Raffles for an investigative article surrounding the death of Whitney Houston? Of course he did! and you know what? When Mark called me last month his very words to me were, "Jacky, what can I say, you've already covered everything I learned about Raffles. I will have to take another angle now". Don't believe me? Ask Twiggy.
Entire Raffles Investigation revelations CLICK HERE