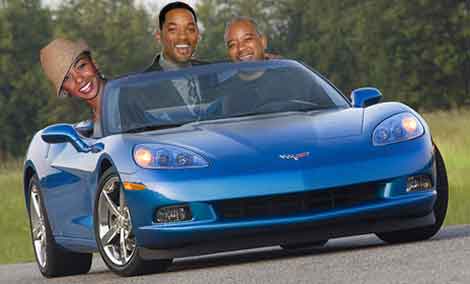 HSK Exclusive – Word from the streets…
It's a common case when one sibling surpassing the other in success, in a major way! Even though Ananda Lewis is currently jobless, she has no problem making ends meet — and it's all thanks to Will-Fare (Will Smith-Fare, that is)!
According to inside sources, the former MTV veejay has earned her ticket into Will Smith's expense account after marrying the "Fresh Prince of Bel Air"'s younger brother, Harry. That's exactly how sources say Lewis is able to live comfortably raising her family. Don't believe me..  Ask Jacqueline Oliver.
Here's the tea surrounding the Will-Fare being collected by Ananda Lewis & her hubby Harry:
"Harry is a loser, dude went to Hampton University to study business. He's no different than a trust fund kid. Will bought Harry a car while he was still in college. Jacky, this nicca was driving a bright blue corvette around campus.

After college, Harry came out to California, and Will hooked him up with a real estate business. Will trusted Harry, cause he had a business degree. They were buying million dollar homes, trying to flip them. That didn't work out, because Harry has anger management issues. He's just like their father.

Harry will cuss you out, he's still very ghetto. Harry was cuss'in out clients, he f*cked up the business. But, Will feels obligated to take care of his loser brother. I guess that's why Harry and his wife are both living off of Will.

This Nicca Harry is so nutty, he once tried to open up a church. But that's another story."
Did Harry convince his brother Will Smith to open the school "New Village Leadership Academy"? Of course he did. Don't believe me.. Ask Troy Carter.