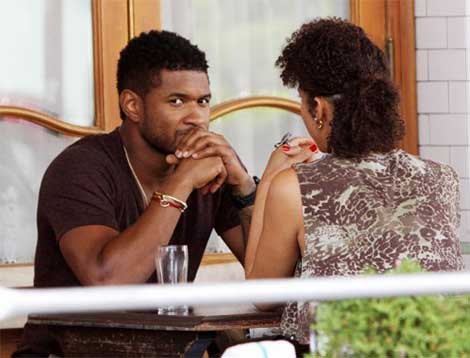 Usher might be proclaiming that he is ready to walk down the aisle again, but has he already tied the knot?
The 35-year-old R&B singer in recent years has been mum about his love life—probably a result of the very public demise of his two-year-marriage to ex-wife Tameka Raymond…but in the past few weeks he's become very open about taking another stab at married life.
"I've been even more excited about the idea of it," he shared during an interview with Extra. "It could be the fact that I've spent the last year at everybody's damn wedding, like I've become damn near the wedding singer, know what I mean?"
But while he's busy lending attention to the idea of marriage, by all accounts Usher might have pulled a Janet Jackson, and got hitched in a secret wedding. The bride? His manager Grace Miguel, who he has been dating on the low since 2009.
So what makes the idea of a secret ceremony plausible? Miguel—who has been spotted wearing a ring on her left ring finger—has three kids who are very active on social media, and all of them have referred to Usher has their stepfather in past posts. Even one of Grace's nieces has addressed him as "Uncle Usher".
via CentricTV