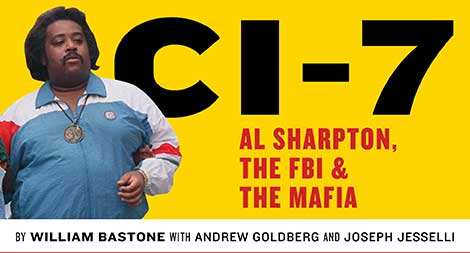 Al Sharpton is vigorously denying a report that he was once an FBI informant spying on the Genovese and Gambino crime families.
The Smoking Gun yesterday published a major investigative piece based on hundreds of pages of FBI documents obtained via Freedom of Information Act requests that reveal that Al Sharpton, known as CI-7, was a major asset for the FBI's "Genovese squad," using a specially wired briefcase to secretly record 10 meetings with one Gambino figure. The mobster spoke openly on those recordings about extortion, death threats, and the feigned mental illness of Genovese boss Vincent "Chin" Gigante. Sharpton's info helped investigators secure wiretaps on dozens of crime family phones.
For much more on Sharpton's informant work, check the source. Sharpton told the site that he was selflessly tipping the FBI off to plagues on minority communities, an assertion he's made in response to similar past reports. But one Genovese squad agent says they strong-armed Sharpton by recording him discussing a cocaine deal with an undercover agent. "He thought he didn't have a choice," the agent said.
Sharpton tells the Daily Beast that the Smoking Gun report is "embellished" and "crazy," adding, "If I brought down the Mob, I want my ticker tape parade."
via newser