UPDATE: As with a majority of photos used on HSK, these photos have been created as a satirical element. To be sure the photos included with this Al Haymon story DO NOT represent the story relayed and published by HSK!"
HSK Exclusive – Al Haymon appears to be back at the center controversy. But this time, it's said to have nothing to do with the world of boxing. According to our tipster … Al Haymon, and one transsexual porn star/prostitute, are smashing features in a secret sex tape!!!
"One last thing … That sex tape he made with that trans is missing! He knows who this is!"
We're told 'TS Foxxy' was Al Haymon's former jump-off, and costars in the reported sex tape. According to TS Foxxy's website, the X-rated actor is 'known as The Small Wonder in the adult industry and currently residing in the most sin city of all, Las Vegas.' Even though Foxxy's described as 'an industry vet who is not shy with nabbing [porn] box covers' — that doesn't mean the shemale is hip to Haymon's reported filming fetish, let alone his leading role in the boxing world!
"He [Al Haymon] is very private and secretive!"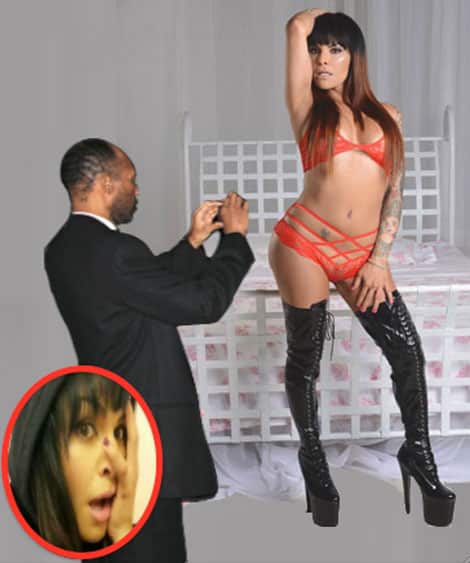 Here's what our whistle blower had to say about Al Haymon:
"He doesn't like media attention or cameras. One of the reasons he's so secretive is he made a sex tape with a Trans porn star named Foxxy. Foxxy had no idea he was recording it. Foxxy also had no idea who he was. That's why he stays out of the spotlight, 'cause a lot of women and men he had sex with might start talking."
Wait … There's more!!!
We're told Al Haymon is an Anal man … literally! How does our source know this? Simple … they're speaking from firsthand experience!
Check it:
"I used to secretly date him and I'm sure other girls did also. Anyway, Al has boxing on lock! Al Haymon agreed to pay Canelo an additional $5mil if he took it easy on his prize fighter. Not to say Canelo would've won for sure, but Al didn't want to take any risk after Manny Pacquiao got knocked the hell out. So how do I know this happened? I just finished licking Al's balls the same day he had a secret meeting with Canelo's camp. Lol, yes he just likes his balls licked and a finger in his ass while he jerks off. All his girls know this."