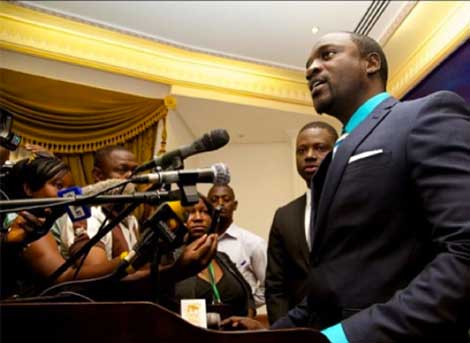 "We look like Mascots.. What is the purpose of it, just to style on YOU?"
HSK Exclusive – Akon has one question for the Rolex-wearing, Rose Gold 'ropes on top of ropes' sportin' rapper "who got to do two or three shows just to pay off his Bentley note" — Who brought the Clown in???
Akon broke down that character to the last molecule, blaming them for "Looking Like Mascots." Know why? Because their flossin' cost Big Dollars, yet their purchases make NO Sense!
Buss it:
"In Hip Hop we got so much access to money but how we move it is so petty, and just disrespectful. I mean, you see how we living. It's disrespectful.

I can't remember the last time I wore diamonds, even though I'm connected to it. Think about it, when was the last time you seen me wear diamonds? Why? Like what is the purpose of it, just the style on you?

You know what woke me up? As you sit around with all these billionaires and they're talking about all these big life-changing projects, and you go into these boardrooms and every body's just normal — T-shirts, jeans, dirty beat-up sneakers, that they probably haven't changed in two, three-years — and they got enough money to.. it's just ridiculous. It's that 'f*ck you' money.

And then you see somebody that walks in from my walk of life. I mean, just imagine how dumb this looks. Everybody's rich… billionaires dressed normal. Like, they just woke up and put on something… and they're talking about something that's gonna make an economical change. And then you got someone from my walk of like that I might have recommended to be a part of this, and he walks in with a Rolex, gold chains, ropes and ropes… I mean it looks embarrassing!!!

And let me remind you.. he got to do two or three shows just to pay off his Bentley note! Just imagine that mind state. I mean, we look like mascots.
That money could actually go to where it actually does go for someone else. Hip Hop Is A Braggadocios Lifestyle."