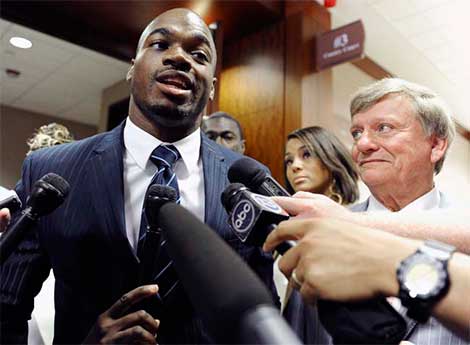 Nike Also Pulls Peterson Merchandise From Retail Outlets!
The fallout from Peterson's recent indictment for child abuse keeps piling up. The Minnesota Vikings have reversed course on the handling of running back Adrian Peterson, placing him on the exempt/commissioner's permission list — meaning he is suspended indefinitely from all team activities amid the running back's child-abuse case.
Peterson was indicted last week in Montgomery County, Texas, on a count of reckless or negligent injury to a child, after he reportedly used a switch, or a tree branch, to spank his son.
After Peterson sat out Sunday's game, the Vikings decided to reinstate him, a decision that drew sharp criticism. The Radisson hotel chain suspended its partnership with the club because of the reinstatement of Peterson.
The team's decision will allow Peterson to "take care of his personal situation until the legal proceedings are resolved," according to a statement from Vikings owners Zygi and Mark Wilf.
"After giving the situation additional thought, we have decided this is the appropriate course of action for the organization and for Adrian," the statement read.