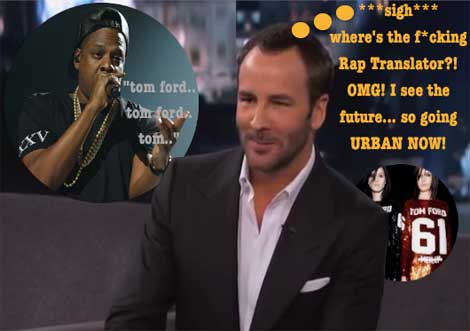 "I had to go on rap translator to understand what it meant… he wears Tom Ford. That's how he gets his high. Who doesn't like that?" ~Tom Ford
Is Jay Z's track dedicated to Tom Ford really a secret serenade to the designer? I don't know, but I can tell you… not only does Tom Ford say he needed a "rap translator" to understand Jigga's vocals, 'Holy Hova' didn't make a dime from his lyrical endorsement of Tom Ford's brand.
"I don't pop molly, I rock Tom Ford." ~Jay Z, "Tom Ford"
To add insult to injury, the flamboyant fashion designer made it a point to highlight Jay Z's Tom Ford "knock off' tee was the inspiration for Ford's new line of blinged-out Tom Ford runway jerseys — going for $6,500 a piece.
"It's like 'good cop, bad cop'… you have to be nice and supportive."
Here's what Tom Ford had to say about Jay Z's "Tom Ford" track:
"He emailed me and said 'I'm writing a song called Tom Ford.' I didn't know what to expect, but I trust him. He's a good guy. And then I heard the song. I had to go on rap translator to understand what it meant. But the message is actually quite positive. He doesn't do drugs, he wears Tom Ford. That's how he gets his high. Who doesn't like that?"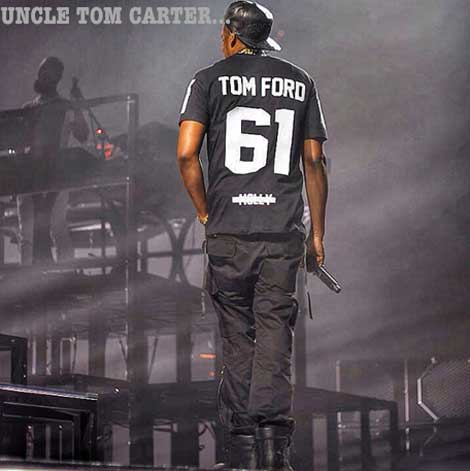 http://youtu.be/koACALRAG-0