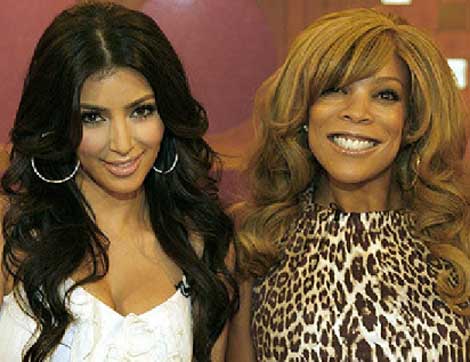 Frenemy Fame Whores?
Just when you thought reality TV producers had exhausted all of their dumbing down ideas, Wendy Williams and Kevin Hunter step up to the plate with more.
Reports reveal the pair have struck a deal with Oxygen Media, for Kim Kardashian to debut as the first guest of "Celebrity Uncover" — scheduled to kick off in March.
"The first episode will be all about Wendy Williams and Kim Kardashian."
Here's what's being released:
"Celebrity Uncover will allow celebrities to receive an up close and unfiltered idea of how the public truly feels about them.

The half hour hidden camera reality series will feature two celebrities in each episode with their true identities concealed by the use of wigs and prosthetic make-up. The cameras will follow the celebrities around as they ask questions and mingle with unsuspecting fans as they casually bring up their own names to get a true reaction and true opinion of what people think of them."