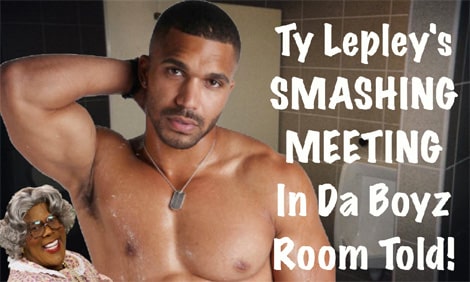 "We were all in the men's bathroom and my boy was giving him a BJ."
HSK Exclusive – One Tyler Perry prodigy seems to have landed himself smack dab in the middle of a modern day George Michael sex scandal! We're talking about 'The Have And The Have Nots' actor Ty Lepley — who's being outed for taking a freak session to a public bathroom, moments after meeting a pair of randoms at a Hotlanta party.
"I just watched them. When Ty finished…he didn't even wash his nasty hands!"
It's said to have gone down about a week ago. According to our tipster — who places themselves inside the boyz room ["with Ty and my openly gay friend"] at the time of the smash session — anonymous was about join in and make it a threesome … before they spotted something sketchy on the 26-year-old Philly native's Dizz-Na-EE!
"I saw a strange bump on his dick, and he couldn't even stay hard because he's on so many steroids. I was like OMG, no boo, can't do that one."
Here's the drop:
"While we were in ATL me and my friend were having a very interesting convo [with Ty Lepley] during this party we were at. One thing led to another … and the next thing I know we were all in the men's bathroom and my boy was giving him a BJ. Word is that he's using this chic in LA … but he likey the boys in ATL."
Does Ty Lepley use social media to cruise men he knows are down with his program? Ask Don Lemon.