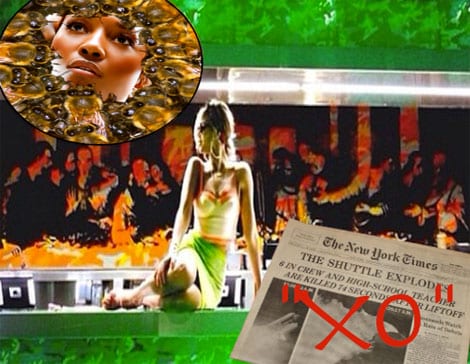 HSK Exclusive – Houston, we've got a problem!
Chilli's been swarmed by Mrs. Carter's Beyhive, but their TLC target seems to be catching Bey's social media pawns pent-up rage. Know why? Ms. Thomas simply crossed the Beyhive at the wrong time.
Where was this Beyhive when the families of The Challenger's fallen astronauts, countless across the country, and NASA slammed Beyonce for capitalizing on audio of the 1985 disaster that killed seven crew members? I'll tell you, falling back. So, the minute they picked up on Chilli's re-tweet — after Bey's recent 'XO' scandal — they declared war!

Here's what's being reported:
"It all started when Chilli re-Tweeted a list of things that need to stay in 2013. Chilli was never really talking trash! She had merely reiterated that the phrases "Queen B" and "Bey" were tired, and that they needed to go. But she wasn't talking smack about Beyoncé herself!"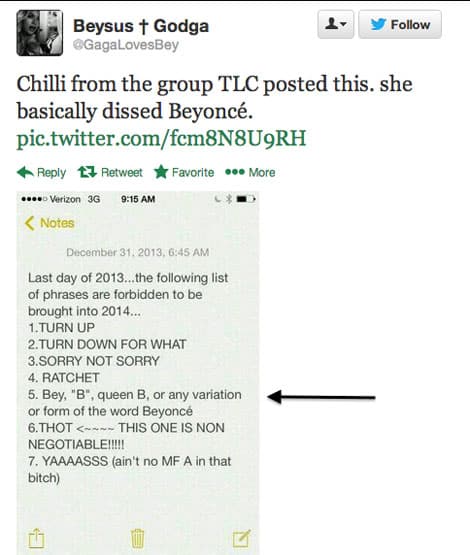 "The Challenger accident is an important part of our history … and should never be trivialized." -NASA
Here's what the widow of Challenger space shuttle commander Dick Scobee had to say about Beyonce's 'XO':
"We were disappointed to learn that an audio clip from the day we lost our heroic Challenger crew was used in the song 'XO.' The moment included in this song is an emotionally difficult one for the Challenger families, colleagues and friends. We have always chosen to focus not on how our loved ones were lost, but rather on how they lived and how their legacy lives on today."
Did Beyonce play the blame game in order to clear herself from disrespecting the seven dead astronauts? Of course … Just ask Ryan Tedder and Terius Nash.