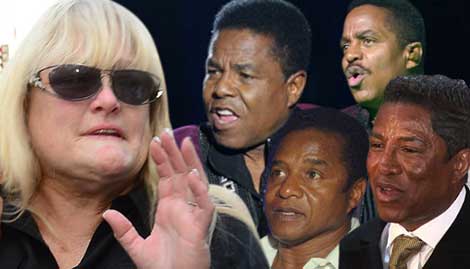 "Michael often told her the only sibling with any talent was Janet, and the others turned sponging off him into an art form."
Debbie Rowe is calling out the Jackson brothers for banking on MJ's kids, rather than providing "proper supervision" for them. Rowe — who is the biological mother of Paris and Prince Jackson — is said to be seeking custody of all three of Michael Jackson's surviving kids.
This news comes shortly after Jermaine Jackson and Co. announced Debbie Rowe "…now decides to enter their lives, after she abandoned her children many years ago for money." Sources say Rowe insists that's far from the truth, and that she has played a role in the upbringing of MJ's kids.
"Michael constantly called her for parenting advice and she was always there for him and the children."
Here's the latest:
"She thinks Katherine is a good woman but way too old and slow to care for the kids. She thinks Michael's siblings all couldn't give a crap and they are all bad influences.

Rowe believes MJ's brothers oppose her plan to seek guardianship because they know if that happens a huge chunk of the money Katherine gets from the MJ Estate — more than $50K in child support — will dry up.

She wants to move the kids to her ranch in Palmdale, where she has a successful horse breeding business."
Here's the word from Jermaine, Randy, Tito and Jackie:
"The children are well taken care of. Our only desire is to see our niece and nephews continue to go on with happy, healthy and safe lives. We will do everything and anything with in our power to help make that happen."