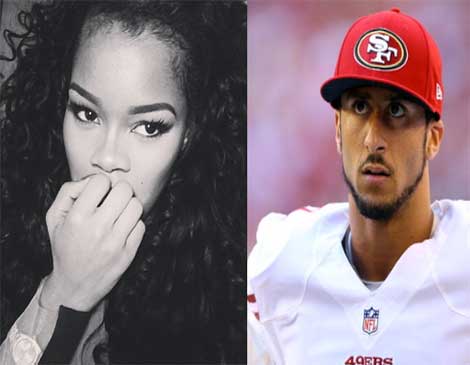 HSK Exclusive – We've landed exclusive insider word that reveals Teyana Taylor as Colin Kaepernick's so-called "sexual assault victim", at the center of what's panning out to be a reported "bogus investigation".
According to our source, the 23-year-old GOOD Music recording artist didn't only spill "a string of lies" — leading many to question why certain media outlets failed to "do their background fact-checking" — Teyana Taylor is reported to now be "backtracking on her allegations"!
"Teyana Taylor recently spent a romantic weekend in Miami with Colin Kaepernick."
Here is the latest report:
"A rape kit was administered on the woman at the heart of the Colin Kaepernick investigation (Teyana Taylor)… claims a Miami Beach Police Spokesperson.

Cops were summoned to the hospital where the woman wound up after allegedly hanging out with Colin and two other NFL players at an apartment at the Viceroy Hotel in Miami on April 1. 

The woman told police she smoked pot at the apartment … then started to hook up with Colin and even got undressed — then blacked out and woke up in a hospital bed. Cops spoke with the woman at the hospital and a rape kit was administered. 

Although Colin is listed as a suspect … police have not concluded he committed any crime.  The investigation is ongoing."
Back in November, reports of Colin Kaepernick dating Teyana Taylor began to spread. It appears that Teyana may not have been the only female Kaepernick has been connected to during their courtship. Don't believe me.. Just ask Sanaa Lathan. "This guy is a total hoe," a source said. "He meets women online just to smash and then he's on to the next." That may make Kaepernick — a single, 23-year-old NFL star — a cheater, but NOT a sex offender.
Dig the Drop:
"The poor guy, he didn't do this."