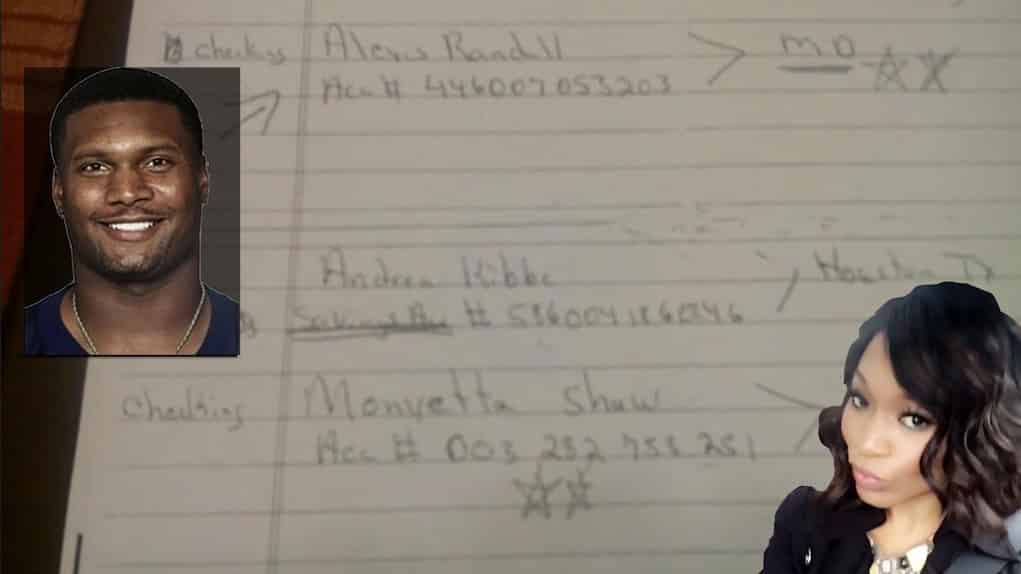 "Fearless Discussions are transparent conversations about real topics …" – @monyettashaw, April 14, 2016
HSK Exclusive – You're looking at a handwritten doc drafted by the late Steve 'Air' McNair, who would have been 43-years-old today – may he Rest in Peace. Not only does the doc provide proof of McNair keeping his jumpoffs 'kept', it also gives us a glimpse into the late NFL legend's monthly financial routine. More specifically, funding his extracurricular infidelities of activities.
"Monyetta Shaw was with Steve McNair at the same time that she was with Ne-Yo."
This drop comes nearly seven-years after the reported "execution-style" murder of then 36-year-old Stephen LaTreal McNair, who was married with kids at the time of his tragic death. Our intel also comes to you on the heels of the celebratory events of one Monyetta Shaw aka Ne-Yo's "ex-fiance" — whose name is scribed on McNair's list alongside the names "Alexis Randall" and "Andrea Kibbe", complete with banking account numbers.
"Steve had a lot of h*es. He was paying Monyetta's monthly bills and sh*t. Monyetta wasn't the only one. He was paying that chick from Flava of Love too … Krystal Stevenson."
Throwback to 2009. You may recall that's when first word of the Ne-Yo and Monyetta Shaw hook-up began to spread — word which Ne-Yo flat out denied at the time. Just ask T-Pain! Now, not only does our intel clearly reveal a greed-driven paper trail appearing to be (with all due respect) headed for another Maury Povich unveiling — but, Ne-Yo may have known all about Monyetta's goldiggin' into McNair's pocket's from the jump!!!
"Being transparent isn't always the easiest thing but I'm so grateful for the lives I've touched thus for." — @monyettashaw
The Drop:
"Monyetta is nothing more than an industry hoe on the take. They've all been through that. Ludacris, Dwight Howard, Hosea Chanchez, and many other athletes and male celebs.
If I remember it correctly, isn't Ne-Yo the same guy in 2009 that told the press in the Philippines that Monyetta was his personal assistant? He knows why he didn't wife that up. What Ne-Yo needs to do to order a paternity test because Steve McNair could be Madilyn's real baby daddy."
Here's an excerpt from Money-etta 'Home Wrecker' Shaw's bulls*t 'Bigger Than ME' spiel:
"Sterilization was something Ne-Yo and I discussed thoroughly in the months leading up to the baby's delivery. We had a daughter, Madilyn, in 2010, and two children seemed like more than enough for the both of us."