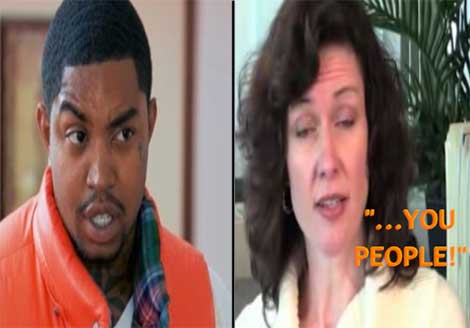 "Angela Shannon is a fraud." ~Former Client
HSK Exclusive – Scrappy and Erica's daughter, Emani Richardson may have gotten an "UNFORGETTABLE EXPERIENCE" from Atlanta's 'Glamour Girls Day Spa' — but that wouldn't fall under the owner's promise "to promote positive self-esteem for girls". That's why Scrappy's putting his racist experience with Angela Shannon on blast!
Glamour Girls Day Spa is the spot where Scrappy arranged to hold Emani's birthday bash, making reservations and dropping a down payment before the planned day, March 30th.
Scrappy says he was running 20-minutes late for a 2 1/2 hour appointment… but once the family trio arrived, Angela Shannon turned them away "because they're Black." To be sure, Glamour Girls Day Spot is advertised to welcome walk-ins.
"Scrappy complained, citing the down payment … he says the people running the place told him they didn't want to serve "you people." Cops were called — because Scrappy didn't want to leave without a refund on his down payment — but officers got him half the money … and the salon agreed to mail the rest."
Scrappy and Erica are proven to be far from the first crossed by Angela Shannon. The 43-year-old "Certified Event Planner" — whose previous failed ventures: Angela Shannon, Inc., Five Star Affairs, Inc. and Shannon Financial — has a track record that pegs her a "racist, slanderer and fraudster."
"I am in the process of filing a suit against this person. Angela Shannon is a fraud." ~Anonymous, January 2014
Dig the drop:
"She decided she was not going to return a refund at all. When I mentioned I would be legally handling the situation, she stated that I would need to provide her with my address and she would mail me a check. This person is clearly attempting to defraud me of my money.

Do not conduct business with this individual, Angela Shannon with Angela Shannon Inc. in Georgia."
Here's what Angela Shannon stated in response:
"I have no intention of dignifying the accuracy of this charge or offering a defense to the indefensible."