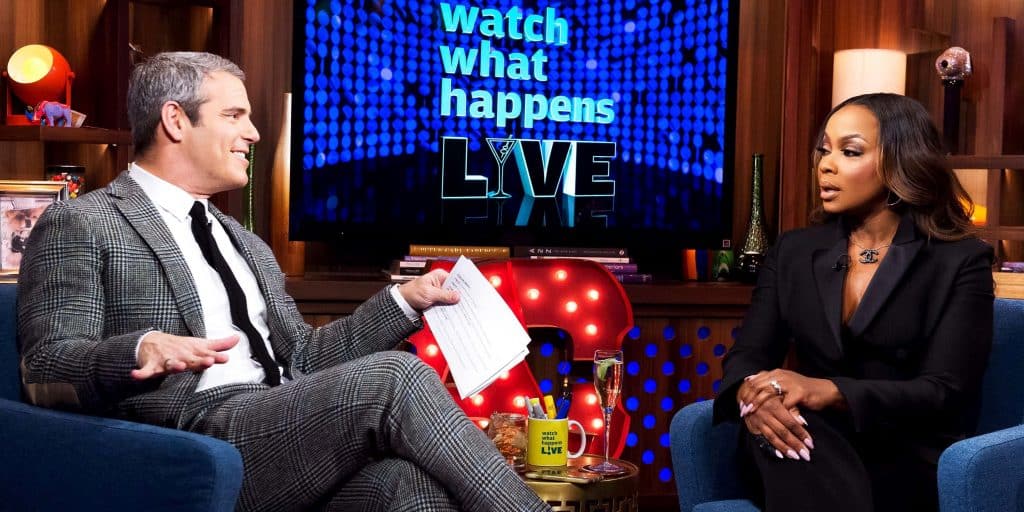 via AllabouttheTea.com – Phaedra Parks has been frozen out of the Real Housewives of Atlanta spotlight, after the season 9 reunion series exposed the Atlanta attorney as a shady liar.
According to Bravo mouthpiece, Andy Cohen, the cast is refusing to film alongside Phaedra ever again, after she was caught as the source behind the concocted drugging/rape rumor about co-star, Kandi Burruss.
"The question that we look at now with Phaedra is, when the reunion ended, none of the other women wanted to have anything to do with her. So that's what you have to look at," Andy told E News on Monday. "How do you shoot a show about a group of friends when no one is speaking to one of the friends?"
Bravo has not officially commented on Phaedra's future, but Cohen hinted that the cast has put the network in a tough spot. Reportedly, Phaedra's actions resulted in a pink slip — and that the faux southern belle will not return for Season 10. Phaedra's alleged move to blame a producer for the scandalous rumor likely gave Bravo yet another reason to show her the door.
Real Housewives of New York star, Bethenny Frankel, also shot down Phaedra's allegation that a producer is behind the drama.
"I've been doing this for 10 years. I actually, sadly, consider myself to be a veteran. The producers do not make you do these things at all," she said at the NBCUniversal upfronts.
"The producers don't know exactly what's going on, so they might say, 'Are you going to talk to Kandi about this?' They don't know. They would never [manipulate storylines]. It would be a massive problem. This isn't The Hills, it's real. It really is. So yeah, no, that would never happen."
Porsha Williams recently admitted that she hasn't spoken to her former friend, Phaedra, since filming the explosive reunion.