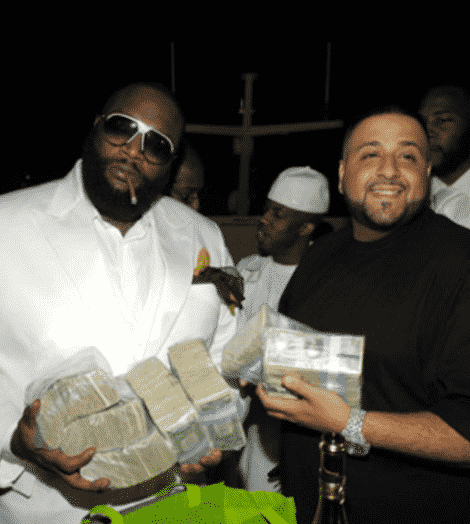 HSK Exclusive – Rapper Rick Ross may be flossin' giant piles of guap, but what the Maybach Music founder won't tell you about is the treachery he did to get it. Don't believe me.. Just ask CEO of Respect Management — attorney Kevon Glickman — who Prick Ross reportedly owes a Million bucks to.
Sources say it's the outstanding balance for the management company's three-years of services provided to Ross, beginning in 2004, including production of the hit album ' Port of Miami.
'That's the reason behind the ex-correctional officer's beef on the streets of Miami. Know why? Because we're told William "Rick Ross" Roberts used Elric "E-Class" Prince CEO of "Poe Boy Music Group" to get out of his agreement with Respect Management — before dropping "E-Class" to get with Sean "Puffy" Combs.
Now, dude's with Lyor Cohen's management company.
"Rick Ross got his Miami hood pass when E-Class became his manager. Rick Ross and DJ Khaled went behind E-Class' back and opened Maybach Music.

It wasn't the Gangsta Disciples shooting at officer Rick Ross. The shootings were because of the beef Rick has with E-Class. Rick Ross is like a unloyal hooker, he jumps from one managers dick to the other."
Here's the drop:
"It was Elris "E-Class" Prince who saved Rick Ross from his lawsuit with Respect Management, and even protected the ungrateful rapper when 50 Cent was gunning for his head. But when Puffy offered Rick Ross a deal, he betrayed "E-Class" to get with the Bad Boy."
Here's what Respect Management claims:
"Ross signed with Respect Management in 2004. Soon afterwards, he landed a major label deal with Def Jam — which released the six-foot four, 300 pound rapper's debut Port of Miami. The album moved over 800,000 copies based on the hit singles 'Hustlin' and 'Push It.'"