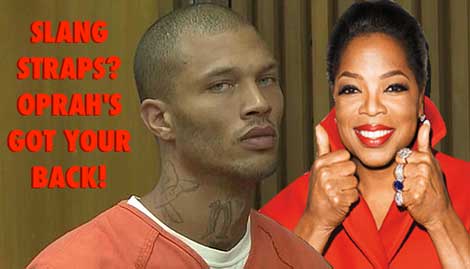 "He is the definition of 'sexy'." -Oprah
The California convict at the center of that mugshot gone-viral has apparently been bumped by Oprah Winfrey!
Jeremy Meeks' booking photo is said to have been what led Oprah to put up his $900K bond! "I saw his picture while I was checking my Twitter, and my heart skipped a beat," said Oprah. "Jeremy is so beautiful. He's really one of the most gorgeous men I've ever seen." Meeks is now said to be working with Winfrey, her producers, and a group of writers to determine the best kind of show for his style. "I never thought that becoming an internet meme would parlay into a career," said Meeks. "This is truly the best thing I could have ever hoped for."
This is leaps and bound away from the 30-year-old Sac-Town man's reported past, including a total of 11-years of time served behind bars: 9-years for grand theft auto and two -years for grand larceny. Meeks' latest bust went down a little over a month ago, back on June 18th.
"I am not a doctor, so I guess I can't really be Dr. Phil or anything. What I've suggested is a milder version of a Jerry Springer, where my guests are mostly cons and criminals like me, and I can maybe help them get or stay on the straight-and-narrow." -Jeremy Meeks
What's out there…
"Four firearms were confiscated during a involving the Stockton Police gang unit, the FBI, the U.S. Marshals Task Force and other agencies.

Meeks was arrested and booked for committing Street Terrorism, which is a gang related charge. When stopped by the police, the married 30-year-old dad was arrested on five weapons charges and one gang charge. During the search of his car, cops found a 9 mm round of ammunition and what they believe to be marijuana in his passenger compartment, as yet unconfirmed."