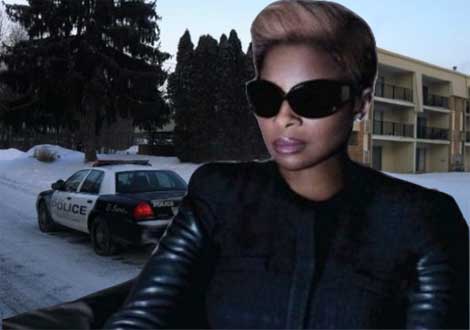 Michigan police say the father of multi-platinum-selling singer Mary J. Blige was stabbed and critically injured.
Police say his 50-year-old ex-girlfriend is in jail on an attempted murder charge. Battle Creek police say the attack happened about 7 a.m. Thursday at the apartment of 63-year-old Thomas Blige.
Police say he had a neck wound and was taken to Kalamazoo's Bronson Methodist Hospital, which says it has no information on his condition.
Detective Sgt. Jim Martens tells the Battle Creek Enquirer that officers recovered the knife and found Blige's ex-girlfriend with blood on her clothing. She's in the Calhoun County jail and is expected to be arraigned today.
Here's what Detective Sgt. Jim Martens told press about the case:
"Blige saw the woman deflating the tires on his Ford SUV in the parking lot outside the apartment and went out to confront her. The couple argued and Blige was stabbed.

He returned to his apartment and she went to her apartment. She was arrested without incident."
Martens said police have handled seven domestic violence complaints between Blige and his 50-year-old former girlfriend since August.
Reports reveal … 'The woman was charged in October with aggravated domestic violence after she hit Blige in the head with a glass candlestick. She entered a no-contest plea to the charge and on Jan. 10 was placed on six months probation. She was ordered to have "non-assaultive" contact with Blige.'