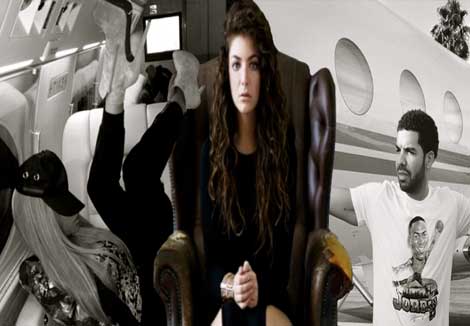 "Everybody's like Cristal, Maybach, diamonds on your timepiece/ Jet plane, islands, tigers on a gold leash/
We don't care, we ain't caught up in your love affair" ~Lorde, "Royals"
The 17-year-old singer/songwriter behind the chart-topping track "Royals" has embarked on a mission to bring substance back into music. That's why Lorde is putting the likes of Drake and Nicki Minaj on blast, calling out the spawns of Young Money Cash Money Brothers for being "completely irrelevant."
"They all sing about such opulence, stuff that just didn't relate to me—or anyone that I knew."
Point proven, sista! And, girlfriend's got jokes!!! Know why? Lorde — whose real name is Ella Maria Lani Yelich-O'Connor — says she's named her "official company 'Sack Of Squirrels Ltd." But don't take this teen — dubbed one of Time Magazine's '16 Most Influential Teens' — for any joke. Reports reveal Lordes recently signed a multimillion dollar publishing deal with Songs Music Publishing Inc.
Here's what's The Wall Street Journal is reporting:
"Lorde has co-written most of the songs that appear on her debut album "Pure Heroine" and even though exact terms were not released, other publishers said bids reached $4 million. Matt Pincus, founder and CEO of Songs, told the Journal that their bid was in fact "competitive."

Here's what Lorde had to say:
"Around the middle of last year I started listening to a lot of rap, like Nicki Minaj and Drake, as well as pop singers like Lana Del Rey. They all sing about such opulence, stuff that just didn't relate to me—or anyone that I knew. I began thinking, 'How are we listening to this? It's completely irrelevant'."

And we'll never be royals (royals).
It don't run in our blood,
That kind of luxe just ain't for us.
We crave a different kind of buzz.
Let me be your ruler (ruler),
You can call me queen Bee
And baby I'll rule, I'll rule, I'll rule, I'll rule.
Let me live that fantasy. ~Royals

"I didn't expect to be in this world but I think it's kind of cool. For a long time pop has been this laughable, shameful thing. But it's actually gratifying and fun and can unite populations, which I think is incredibly powerful. So hopefully I am showing that pop can be taken seriously."
Did Lorde shoot down an invite to tour with Katy Perry because "it didn't feel" right? Of course! Don't believe me.. Just ask Bradford Cobb.