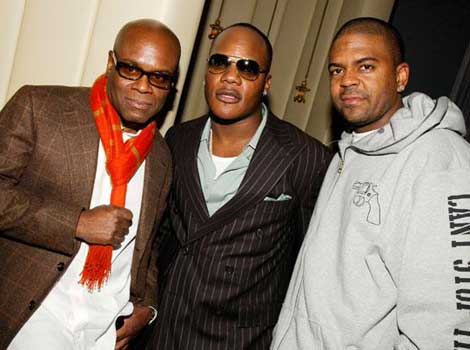 HSK Exclusive – L.A. Reid is being blasted for failing to fund the 2008 funeral of his secret ex-boyfriend. Don't believe me.. Ask rapper Rick Ross.
Though we can't say exactly how long L.A. Reid was dating Shakir Stewart, we can tell you the pair dated during the time Stewart climbed quickly to the top of Def Jam Records, landing a Senior Vice President title.
That's before [an uninsured] Stewart committed suicide on November 1, 2008, and Reid reportedly refused to cover burial costs — leaving Jezzy and rapper Rick Ross to pitch on the funeral.
Here's the drop:
"L.A. Reid is a total freak. Dude is into golden showers, and he turned out his wife Erica into a stud. L.A. Reid used to host all the DL parties in Atlanta, before Devyne Stephens took over."