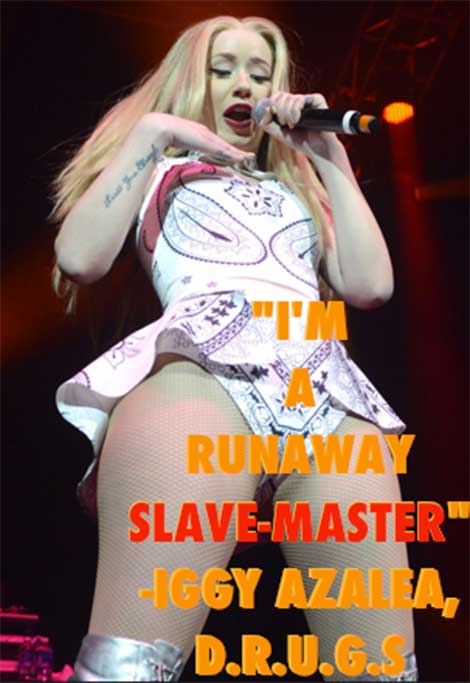 "Making a name for yourself as a woman in hip hop is laudable enough, forget the fact that she is a white, blonde, Australian woman. In a genre dominated almost exclusively by African American men she sticks out like a statuesque thumb." ~Forbes
HSK Exclusive – We've caught Iggy Azalea's camp dead in their cover-up tracks, scrambling to bury YouTube video of the Aussie's bombed DWTS performance. During our digging, we discovered a number of YouTube postings — featuring the self-noted "SLAVE-MASTER" losing her wack flow… before saying "I'm so sorry, but there's something wrong with my ears". 
"Azealia Banks [the first Azealia, nuff said] took issue with Iggy's lyrics on the song "D.R.U.G.S." where she rapped, "Tire marks, tire marks, finish line with the fire marks. When the relay starts, I'm a runaway slave-master. Iggy later apologized for the lyrics saying it was "tacky and careless."

Our exclusive findings, which come on the heels of "The New Classic" one's camp apparent boss' up move on Forbes… for doing NOTHING, other than telling the TRUTH! Go Figure! Forbes is proven to have backed down… compromised… however you wanna put it. Know why? Because the title that once read "Hip Hop Is Run By A White, Blonde, Australian Woman" now reads "Hip-Hop's Unlikely New Star: A White, Blonde, Australian Woman".
Here's what Forbes had to say about it: