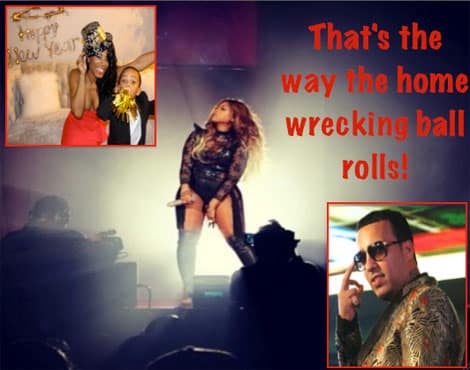 HSK Exclusive – Trina probably wasn't feeling like "The Baddest B*tch" she boasts about being, after ringing in 2014. That's because our tipster tells us … once she stepped off The Baltimore Area's NYE stage, Trina drowned herself in her own home wrecking tears.
"Trina feels French betrayed, and crossed in her own hometown."
Trina's blues are reported to stem from French Montana's choice to take ex-wifey Deen Kharbouch, and their son,
as his dates to Puffy's annual New Years Eve Star Island, Miami mansion party. That's while Trina was performing for some paper in Baltimore. Now, insiders say French could be getting ready to tell Trina to kicks rocks!
Here's the drop:
"Trina was banking on French because he's her last hope to stay relevant in this dying music industry. French is tired of Trina begging him for money."