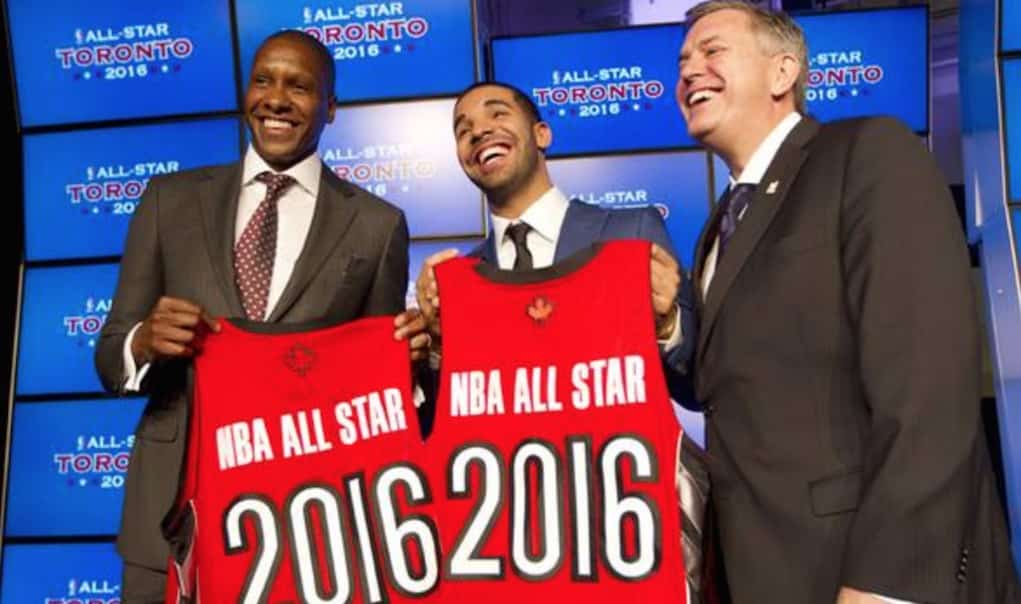 Did the NBA pull a pimp play on Drake when they invited him to serve as "Global Ambassador" of the Toronto Raptors? And, was the play made for the sole purpose of using Drake's celebrity in the team's rebranding campaign surrounding 2016's NBA All Star Weekend? Of course! Just ask Masai Ujiri.
HSK Exclusive — Our intel reveals The City of Toronto has banned Drake from headlining any after party during next month's NBA All Star Weekend in the 6. It all boils down to the violence that continues to surround Drake, his crew, and the events he's connected to have tarnished the rapper's name in Toronto. But the tipping point for Toronto was the Aug.4 2015 shooting deaths of Duvel Hibbert and Ariel Navarro-Fenoy.
"No one has yet to book an NBA weekend after party with Drake's name on the flyer & that's because he's currently going through litigation for the deaths at his Caribana after party." – Toronto Tipster
Reports reveal board members for Toronto are looking to squash Drake's annual Caribana OVO event from going down on city grounds. What's more? Sources say it's not just the 6 that's done with the 6 God, now members of the NBA are following suit…
"Drake is not allowed to attend the NBA weekend after party being thrown by Kenny Smith (former NBA player turned TNT sports commentator) because the club doesn't want to have anything to do with Drake's crowd."
The Drop:
"Toronto ain't digg'in Drake due to the violence OVO Fest and his after parties have present. The most recent, the Aug. 4 2015, shooting massacre at Muzik nightclub, the spot where Drake holds OVO Fest after parties. It's also the spot where a 23-year-old was shot dead within the club's radius."
The current litigations Drake's facing could be just the beginning for Drake… Just ask Pedro Sacadura, the Toronto man who asked Drake for an autograph only to be delivered a beatdown from a set of 6 God's goons. The stage? The front entrance of Toronto's Muzik nightclub. The date? Aug. 4 2014. The event? Drake's OVO Fest after party.
"Pedro Sacadura is suing Drake, Muzik nightclub, and five members of Drake's security entourage for $100,000 in personal injury damages."
Take a look at this video clipping of Pedro's beatdown.