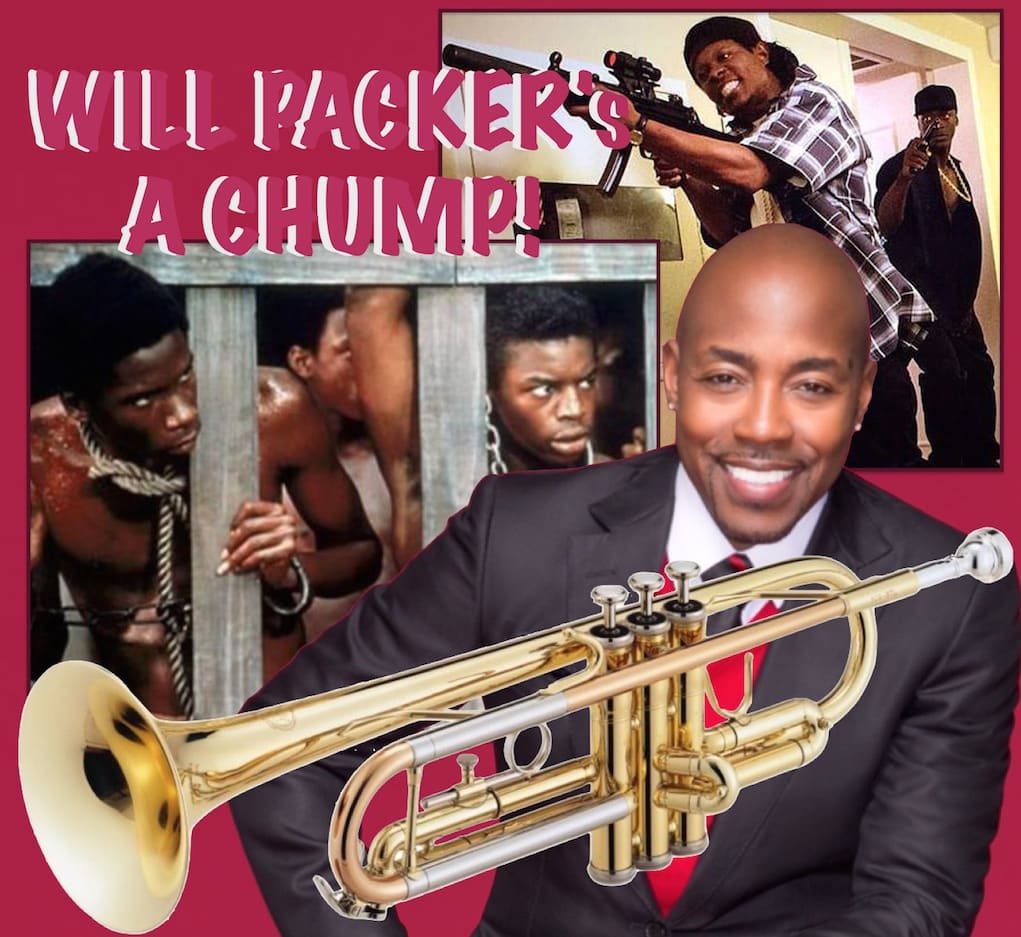 HSK Exclusive — Just days after Will Packer rolled out his very own rendition of Christian Grey by injecting social media with 50 Shades Of Brown-Nosing Oscars Azz for the Academy, the 'power' producer is likely busy practicing pantomimes as he memorizes the scripted speech he's set to drop this weekend.
The City of Atlanta will hold the 24th Annual Trumpet Awards, where Will is set to receive "honorary" praise for his "history-making achievements in film."
"If this is a joke, I'm not laughing! The only trumpet Will Packer deserves is the tarnished kind … straight outta the baroque era."~Industry Insider
The Trumpet Awards is a foundation aimed at "sealing African-American achievement," and it's no wonder a national uprise is brewing — with The People puttin' Will on blast for a "transparent campaign to mentally enslave our youth by way of glamorizing the gangster and glorifying the Jezebel."
"Will Packer's a Chump," are the words buzzing throughout city streets, and a boycott against him is in full effect. Protesters we spoke with say, "it's been a long Time coming … the Trumpet award was the tipping point."
"It amazes me that Will Packer is quick to jump on a jet headed for Hollywood, yet he can't deliver one Tweet about the lead in Flint's water … let alone take action. Isn't that what ya'll say, "action!" Aren't you a fundraiser, Will Packer? How come you ain't said shit about Chicago? Ferguson? You ain't shit."
Peep what insiders have to say about Will:
"The People call Will Packer to explain why he continues to glamorize the gangster and glorify the Jezebel. We, the people, check Will Packer for his role in the apparent campaign to mentally enslave of our youth!"
"To grant honor and praise to the likes of Will Packer — the Devil's advocate — is to disrespect the distinguished honorees who came before him. This generation doesn't need another Roots movie! The year of 2013 already provided us with a total of seven slave movies — only to have Packer follow-up with a "contemporary" remake of Roots, are you kidding?
"Will Packer refused to uphold the responsibility that comes with filling the role of a righteous storyteller."
"He didn't care to teach our youth about the Peter Salem's and the Harriett Tubman's of this world … the movers, the shakers, the do-gooders, the proactive people whose efforts aimed to make a difference. Will Packer is no Champ, He's a Chump!" — Anonymous
"Not only did Will Packer turn his back on the Black and White investors who believed in him and trusted that he would, like they have, pay it forward… he ripped them off! He turned his back on the very hands that once fed him, he made millions and millions of dollars and didn't give them back one cent."
Guess what? HSK has confirmed some of Will's very first investors (who he ripped off) to be six of Atlanta's top business figures.
Here are their names:

1. Gregory Baranco, Owner, Mercedes-Benz of Buckhead, Owner
Right 2 Change, a youthSpark, Inc. duathon — Cycling & Running Co-Chair
Baranco invested $75,000.00
Will Packer buys top of the line Mercedes Benz S600 from competitor.
2. Kipp Buiss, CEO, Ad Out Limited
Buis invested $50,000.00
Will Packer buys billboards for his next movie from competitors.
3. Munson Steed, CEO, Rollingout.com
Steed advertises Will Packer movie in 19 newspaper cities for over a year and never gets paid.
4. Herman Russell Jr, CEO, H.J. Russell & Co.
5. C. David Moody, CEO C.D. Moody Construction Co.
6. Veronica F. Nichols, VP Production & Development, Tri Destined Studios
Nichols convinced her mother to invest most of her life's savings into Will's project. After losing her money, she died with no money left for funeral!