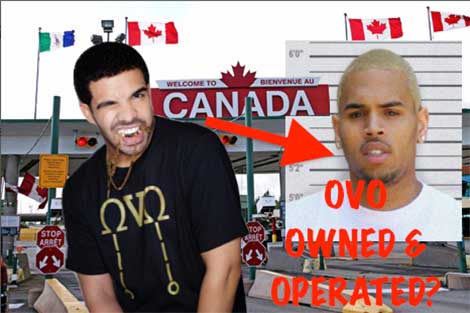 HSK Exclusive – If it weren't for Drake putting his legal team on the case to clear Breezy at the border, Chris Brown may not have landed a pass to Canada.
To be sure… any convicted felon, released from jail less than two-months ago, would no doubt get turned away from entering Canada. But that's not the case for Breezy, says our source. Know why? We're told Drake "took care" of Breezy's crossing to Canada "in time to get him to Toronto for the OVO Fest."
"This coming Sunday, Drake and Chris Brown are gonna perform their new song together at Toronto's OVO Fest."
Wait… There's more!
Here's where it gets sticky… it's said to be a situation that's not sitting well with Drizzy's 'ScarTown set' of rappers "with criminal records". That's because Drake's being blasted for not looking out on the same tip for certain "longtime friends", other Canadian rappers… leaving them to keep their talents stuck in Canada! Don't believe me.. Just ask P Reign.
Dig the Drop:
"Drake's not trying to use his connects to bless his OVO homeys… the ones with criminal records. Because he believes his longtime brethren will get in trouble in the States and he's doesn't want to be held responsible."