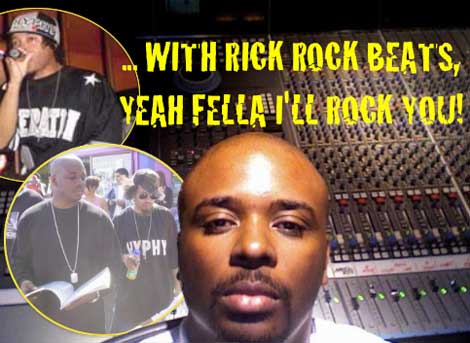 Flaming Federation?
HSK Exclusive – It's been nearly 18-years since Rick Rock laid the beats for Tupac's 'All Eyez on Me.'
Now, all eyes are on the Bay Area beat-maker — as a tipster exclusively puts the producer, and a member of his 'Federation' rap group, on blast for benefiting rockin' mic-isms from his beats!!!
"Doonie Boy was getting beats from Rick for free because he was sucking Rick's dick."

You may recall Doonie Boy has Rick Rock's golden boy, who Rick Rock — real name, Ricardo Thomas — made the lead lyricist of Virgin Records' former rap group, Fairfield, Cali's 'Federation.' In their debut track 'Hyphy,' here's what Doonie Baby [aka 'Doon Koon'] cypher's: "I'm sick from the jaw, look at me on the mic." Dang, Son!!!
"Doonie Baby's friendship and collaborative work dates back to the early '90s in Alabama."
Here's the drop:
"I never knew Rick Rock and Doonie Boy were gay until I saw them doing nasty shit with my own eyes. Couple years back I went over to Rick Rock's spot. So I was knocking on Rock's door but the music was loud so went over to the balcony, he lived on the first floor. And I saw Doonie Baby on his knees giving Rick Rock head!"