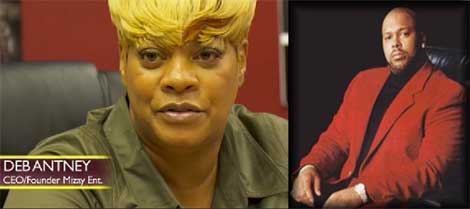 Muscling The Music Men?
HSK Exclusive – Deb Antney isn't only being confirmed as a woman who urges her artists to 'sleep their way to the top' with her — she's also being exposed as a manager who scares her artists out of their dollars. Don't believe me.. Just ask OJ Da Juiceman.
"Debra is the female version of Suge Knight."
Here's the exclusive drop:
"She steals from her artists and pays them whatever she wants. They have to sleep with her. She installs fear in them."
This news comes as French Montana — who Deb managed for two-years — just confirmed Gucci Mane's tweet, aimed at the Bad Boy recording artist, is true.

You'll recall Gucci tweeted this about French Montana:
"60k. French Montana. Was. Laying in deb bed. Ask. Warner. 60k advance I took as insult gave to your aunt t. I'm rich bitch."
Here's what French Montana recently revealed to MTV News:
"The situation that he was talking about with me, he wasn't lying. I was there with Deb. I don't know how much money he gave her, but it was money involved… That situation he was talking about on Twitter I can say that's real."