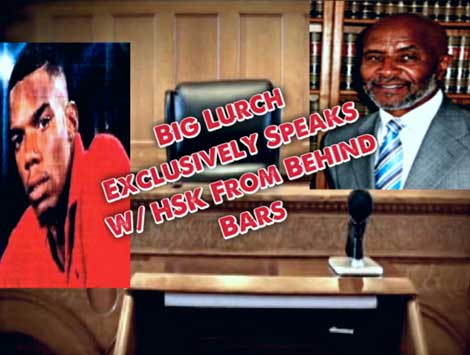 "In 60 days I have an appeal hearing. With a good investigation I could get my double life sentences dropped to a manslaughter charge — because Tynisha's murder was not premeditated."
HSK Exclusive – Almost a decade after being ordered to serve a double life prison sentence for the 2002 gruesome murder of 21-year-old Tynisha Ysais, Big Lurch is revealing new details about the lawyer who represented him during trial; the attorney's potential connection to the "gang banger" he says set him up; and key elements [including DNA, identifying forensics factors from the crime scene, and testimony from the victim's mother] which was never brought to the jury's attention.
"Make the jury hate the defendant, and the jury will convict. The teeth marks on Tynisha's body didn't match mines. My lawyer Milton Grimes didn't say that in court. They convicted me over lunch break. There wasn't no day deliberation, there wasn't even an hour." ~Antron 'Big Lurch' Singleton
In this first part of HSK's coverage of our exclusive interview with Big Lurch, the rapper — who once shared the stage with the likes of E-40 and Roger Troutman — says his own criminal defense attorney wasn't only behind the 2004 'Stress Free Records' release of his album — renaming it "It's All Bad" from its original "The Puppet Master" title, after his conviction — the Texas native suggests Los Angeles criminal defense attorney Milton Charles Grimes may have been in cahoots with the  D.A.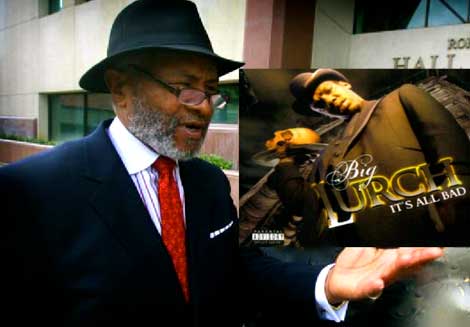 "Grimes could have gotten a mistrial. Instead, he said 'Lurch did it.' Grimes distanced himself from me and made a deal with the D.A. for another case he wanted to have favors on."
Oddly, a little more than half a year after Big Lurch was sentenced, a California court ordered Milton Grimes to pay $1.2 million to the mother of a man fatally shot by Gardenia police — after a jury found Grimes "failed to properly litigate her civil wrongful death case" against the police department.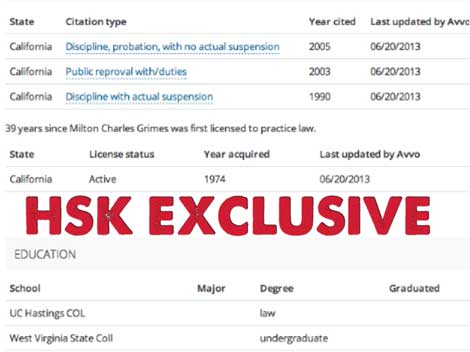 "I was signed to Milton Grimes' label [Stess Free Records]. He was also my lawyer, so I trusted him. Grimes never said there was a pit bull in the dope house with us. Matter fact, Grimes went on the Geraldo show and played a unreleased song of mines 'Texas Boy.'

They brought up that song like it was a blueprint for the murder, and the jury went for it. Grimes didn't even let me have decent clothes to wear in court. Grimes had me looking like Hannibal Lecter.

There's not even no proof that I actually did the murder. We started smoking the PCP and they just kept feeding it to me, and feeding it to me. The next thing I remember I woke up in jail with a murder.

My prints wasn't on the weapon. It was a dope house … they didn't find no dope in the dope house though. We were on Figueroa … we were heavily armed up in there. We had all kinds of guns up in there, but when the police came to the spot there wasn't no guns up in there. The gang bangers cleaned the spot out.

Grimes had me pleading insanity because I was high on PCP — and he knew you can't use drugs to claim insanity in a California courtroom. He threw me under the bus. Grimes didn't even get a statement from Tynisha's mother Carolyn, and she was willing to take the stand and say I was set up.

Tynisha's mother, Carolyn Stinson, came to visit me when I was locked up in the Twin Towers. She told me she knew I was set up, and she forgave me."

The now 37-year-old Richard J. Donovan Correctional Facility inmate was joined by the very mother of the victim he's accused with murdering. From the moment Big Lurch was convicted for her daughter's murder, Carolyn Stinson stood behind the stance that Big Lurch was "set up."
"Her boyfriend was a gang member. I believe he's the one who set all of this up. He was beating on her and she had all her stuff packed, ready to leave the day all of this happened." ~Carolyn Stinson
Here's what Tynisha Ysais' grieving mother had to say, going as far as addressing the human flesh discovered in Lurch's stomach that was not his own:
"To me, he didn't have a fair trial. There's no way he coulda done that work because the way she was messed up, hatred had to have been there … and Lurch didn't hate her.

She got hit in the back of the neck with one of them kid scooters, because a bloody hand print was on the scooter, but they said they didn't know who that was, but it wasn't his.

The police said they caught Big Lurch running down the street, butt naked, covered with her blood … but when they showed it on TV, he wasn't covered with blood … it was just a few drops of blood here and there.

I don't believe he did that. I believe he was probably off on that PCP and he tripped, he saw that piece of lung lying on the floor and he probably figured it was a piece of meat or whatever.

There was evidence … footprints, fingerprints on doors … bloody finger prints … a shoe at the backdoor … and it's like where'd all the evidence go? It was like DNA, who's DNA was it? They said the DNA came up lost."
Here's what a source reveals about attorney Milton Charles Grimes:
"I would never recommend this attorney! It has been said, the more money you have, the better he is. I don't know if this is true, but he was highly ineffective in my family member's case, and I would never recommend him to anyone!

If the judge had not stepped up, my family member would be on death row because he did not put up even the most minimum defense! He should have attacked the prosecution's case instead of playin the 'race' card!

Now our family has to pay another investigator and competent attorney to do what should have been done in the first place so that we can at the very least, get my family member a new trial!

Every attorney and/or investigator that looks at this case cannot understand how this case was so poorly defended. (This is a fact, not an opinion.) The time lines were never compared and exposed, the witnesses and witness identifications were never challenged. Critical police evidence that was highly suspect was never thoroughly challenged. And after my family member was found guilty, and jury misconduct, as well as information was revealed to have been withheld by the DA and police department, and the judge also forced the trial to continue before a critical police witness was available to testify, Mister Grimes did not submit the proper motion to get the verdict overturned.

Since the trial, we have called him on numerous occasions but have received no responses. Our new attorneys and investigators have also tried to call Mister Grimes and received no response from him. One of our investigators finally got tired of him not returning calls or e-mails and went to his office and waited for him to return. Upon his return, he informed him that all case information for this capitol case was misplaced. These are the facts and my experience with this particular attorney."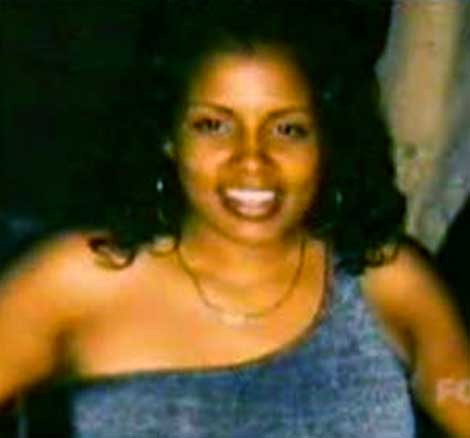 ~Rest In Peace, Tynisha Ysais~