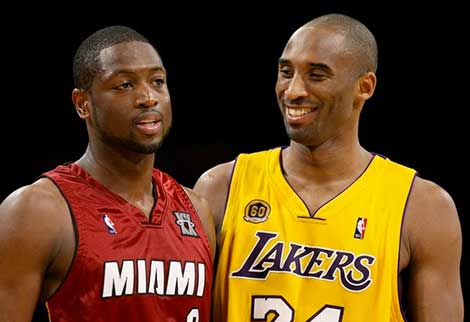 Smoke and Mirrors?
D-Wade has spoken out for his team, responding to Kobe's blast on The Heat's hooded-Tribute to Trayvon. You'll recall, Kobe previously stated "just because he's Black" doesn't mean he'd back 'Justice for Trayvon' — appearing to slam The Heat for doing just that. Wade's reply to Kobe's controversial comment appear to be sketchy, at best.
"There's a lot of causes that go on, that players get behind, and it's not all black causes… Like Chris [Bosh] writing on his shoe earlier in the year, because his wife is Venezuelan."
Wade says because "It [Trayvon's killing] was our backyard… growing up in the kind of environment that Trayvon was in… [and] having young boys" are the reasons that led The Heat to back a cause [aimed at repealing 'Stand Your Ground' laws].
"It was more so that than the color of his skin."
Here's what Dwayne Wade told Bleacher Report:
"Knowing that he is a big fan of the Miami Heat. That is something that we got behind. As a team. I can't even say the organization. It was as a team. We got behind it. And it was more so that than the color of his skin."

There's a lot of causes that go on, that players get behind, and it's not all black causes. You know what I mean? Most of the causes have something to do with something that's near and dear to you.

Bosh wrote 'SOS Venezuela.' It's the same kind of thing. So it's just a difference of opinion."