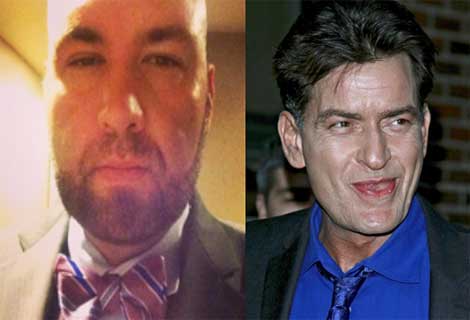 HSK Exclusive – Charlie Sheen may have one 'Two Tigers Entertainment' booking agent to thank for his reported HIV-positive Tiger Blood, according to our industry insider. Our source names former Hollywood music broker Michael 'Mike' Nunnery as the the one-time moonlighting whore-wrangler suspected to have connected the dots between Charlie Sheen and one transgender prostitute/alleged host who may have introduced HIV to the actor's Tiger Blood.
"When Mike Nunnery wasn't brokering concerts, he was supplying Charlie Sheen with hookers."
Here's the drop:
"Mike doesn't know if Charlie Sheen gave the trans HIV or if the trans gave Charlie HIV…whatever the case maybe Mike is packing up and leaving L.A. and he's moving back to Ohio."
This news comes a few months after the troubled actor shut down production on the set of "Anger Management" — blaming "a nasty case of Laryngitis" for calling in sick "two days in a row".
According to Michael Nunnery's 'Mythodic Stadium Solutions' bio:
"Michael Nunnery, Owner and Director of Operations, Michael is known for "connecting the dots" in the business world. He simply has the means and the skill to get deals done and position clients with the right team. As a booking agent, artist manager and consultant, and new business developer Michael Nunnery is a cut above the rest through innovation, relationship building, and hard work.

Michael simply gets it done and produces results he has worked hard for his success and has no plans on slowing down.