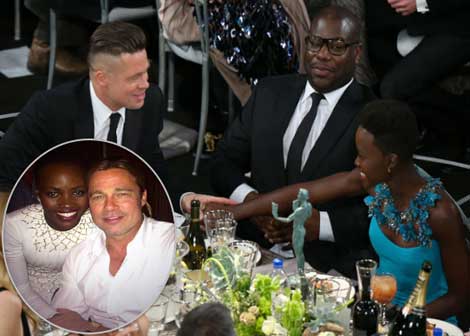 "She's very special, a very special young lady. We're going to see great things from her." -Brad Pitt
Industry word of Brad Pitt's crush on actress Lupita Nyong'o has gone public. The 31-year-old African-born beauty is best known for her role as "Patsey" in the Pitt-produced, Golden Globe Award-winning biopic, "12 Years a Slave."
Sources say Pitt "let the cat out of the bag when he publicly gushed about Lupita" — a Best Supporting Actress Oscar-nominee — at the Producers Guild Awards in Beverly Hills on Jan. 19th.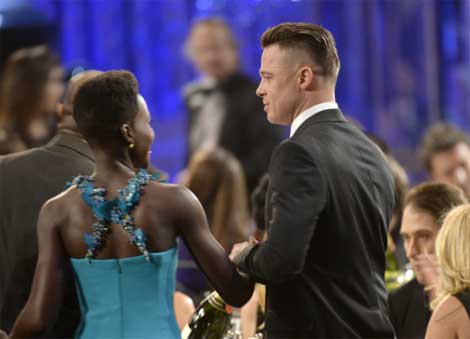 "Brad and Lupita kept close throughout the event. When Leonardo DiCaprio snuck a kiss on Lupita's cheek on the red carpet, Brad stepped in and jokingly warned: "Hey, man, stay away from my girl!"
Here's what a source revealed to The National Enquirer:
"If you didn't know better, you would have thought Brad and Lupita were girlfriend and boyfriend. He is so smitten with Lupita that he's already negotiating to line her up in another film that they can both star in together. He told her that he wants her to be his next leading lady.

Brad's fixation with Lupita isn't sitting well with Angie. Despite his devotion to her and their children, Angelina can't let go of the nagging worry that Brad is on the prowl for the next hot thing to come along in Hollywood."
Could Angelina Jolie soon be getting a taste of her own medicine? Of course … Just ask Jennifer Aniston.