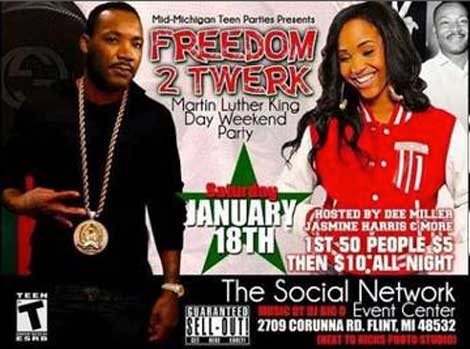 "We must forever conduct our struggle on the high plane of dignity and discipline." ~MLK
Dr. King's 1963 'I Have a Dream' speech may still resonate to this day — but does the 'All About Me' generation really grasp what MLK truly stood for, let alone care? A group of Michigan teens — obviously looking to bank on Dr. King's upcoming birthday — have proven they do NOT!
"In the process of gaining our rightful place we must not be guilty of wrongful deeds." ~MLK
In a pair of party fliers, the teen promoters used disturbing images of Dr. Martin Luther King, Jr. — sporting a white tee and several rings, heavy gold chains around his neck, and a crown on his head; and wearing a large gold chain, making hand gestures — to advertise their "Freedom To Twerk" events.
"We must make the pledge that we shall always march ahead." ~MLK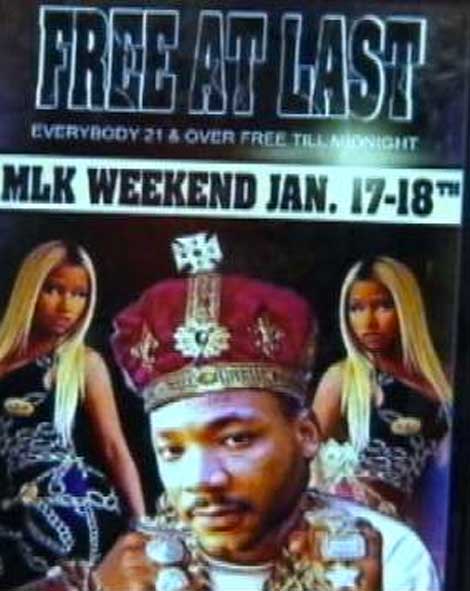 Here's what Rev. Bernice King told Atlanta's FOX 5 News:
"For me, as his daughter, it's like wow. I lost a father who sacrificed everything for them to live a much more dignified and respectful life. And for it to come to this, it makes me sad.

It's one thing if they want to party in celebration of Dr. King's birthday, but it's another thing when you take his actual image and suggest that he's down with it like that.

We have to beging the process of educating them and helping them to see how this is insulting and how this is truly not representative of Dr. King."

"We can never be satisfied as long as our children are stripped of their adulthood and robbed of their dignity." ~Martin Luther King, Jr.