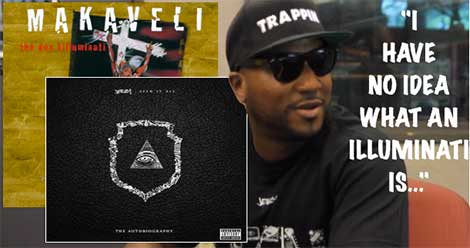 "Do not get art and creativity confused with ignorance." -Jeezy
Jeezy is speaking out over wide speculation suggesting his 'Seen It All' album cover has direct connections to the Illuminati. This after the Atlanta rapper took to Instagram revealing the Eye of Providence, which has become a symbol of the Illuminati, is the image for his soon-to-be released fifth solo album.
Jeezy says word of him being connected to 'an Illuminati' couldn't be further from the truth… adding that his visual choice for the project is no different than Pac's Makaveli: The Don Killuminati album.
"He [Tupac] put himself just in that mind state. That's just how I feel, I feel like I'm bigger than music."
Check out how Jeezy broke it down:
"I am a hard-working, God-fearing man. I have no idea what an Illuminati is and really don't give a d*mn 'cause it has nothing to do with me. I just wanted to do something different and something bigger.

It's kind of a dark album so I just wanted it to have that mystic about it — like something you want to keep as a collectors edition. Not to compare, but when Pac did Makaveli and he put himself on that cross… it was just like that how he felt. He felt like it was him against the world, like it was him against all odds. He put himself just in that mind state. That's just how I feel, I feel like I'm bigger than music. I'm a leader so I can do that. I don't wanna stand in front of a Lamborghini and take a picture of me holding five chains. That's wack… I mean, for me. I'm nine-years in the game, ten-years in the game… I'm trying to push the envelope a little bit.

The album cover is whatever, but when you open that album and play that album we ain't gonna have this conversation. You feel me? 'Cause that music is A-1, ya feel me?"