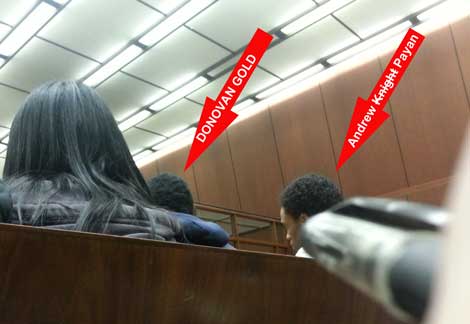 'Ma Barker' Nabbed W/ Her Boys…
HSK Exclusive – More details are surfacing around the arrest of the man commonly known as Andrew Knight Payan and his crime syndicate family, which including his half brother, Donovan Gold, and mother, Tia Lachelle Rowe, who goes by too many alias' to name.
The LAPD served multiple felony warrants at the home currently being squatted in by the family, located at 7217 La Presa Drive in the Hollywood Hills, taking the whole bunch to jail with each facing the same 6 felony charges.
WAIT, THERE'S MORE!!!
HSK was in the courtroom today when Judge Shelly Torrealba ordered Tia Rowe be held on $100,000 for the robbery and another $100,000 for the use of violence with gun during the robbery. Judge Torrealba took it a step further telling Tia's court appointed public defender that Tia poses a "great risk to society" and while she would grant bail for the most recent six felony charges, because Tia Rowe, a previously convicted felon was on felony supervised probation when the latest crimes were committed and therefore had violated that probation, that Tia would remain locked up with NO possibility to post bail before another hearing.
Andrew and Donovan were also in the court gallery as Tia Rowe was lead by sheriffs deputies into the prisoners cage, shackled and in prison blues, looking like she had little to be thankful for after spending the holiday behind bars.
You may remember earlier this this year, we first told you about the intricate family fraud scheme, executed by – Andrew Knight and Donovan Gold, Darrius 'D-Mac' Rogers. That's when we reported there's one lead figure who all of these suspects have in common – Tia Rowe, who has an extended criminal record is who sources say acts as a puppeteer of her sons as she orchestrates their fraudulent criminal endeavors.
Since being released on bond, we're told Payan has returned to the La Presa Drive residence to squat. Know why? Because sources say he has no place to go. Both Payan and Gold are scheduled to be back before a judge on December 12th. We'll bring you more information about this case as it unfolds…